Sboly Conical Burr Coffee Grinder
Pros
Affordable
User Friendly
Easy To Clean
Great Flavor
Cons
Coffee Spills When Removing Grounds Container
Coffee is one of the few delights in life nowadays. For the casual drinker, it might not seem like a big deal. That is because they drink one or two cups a day, and that is it.
However, for those of us who realize the potential of coffee as an energizer, we can't get enough.
There are the aficionados, the lovers, and the followers of coffee. They want the best this beverage has to offer, and they don't spare any expense for this purpose. This extends to include the coffee grinder as well.
No products found.
There are many options available on the market today. However, not all of them are as effective as they claim to be.
They all suffer from some shortcoming that prevents them from brewing sublime coffee. Thankfully, some brands tend to stand out from the crowd. This is because they contain a level of workability and functionality that makes them stand out.
It is these coffee grinders that make life simpler and better for coffee lovers. The coffee grinder that we are going to discuss today is one such machine.
The No products found. is one superb machine, and it has got the features to prove it.
If you are looking for a great coffee grinder, then we strongly suggest this one. So, interested in learning more then? Well, read on!
Sboly Conical Burr Coffee Grinder Review
No products found.
When it comes to choosing a coffee grinder there are certain aspects on which you should judge this coffee grinder, and these can be listed as follows:
Pricing
The Sboly Conical Burr Grinder is a great coffee grinder because it boasts a price tag that is very much affordable.
It is No products found. as of No products found. on No products found.
Amazon will periodically have a coupon available for this grinder, when i purchased mine, it was $20 off, so be sure to look for it on the item page.
You get all the features of a top-notch coffee grinder with this machine but at half the price.
Design Of The Sboly Burr Grinder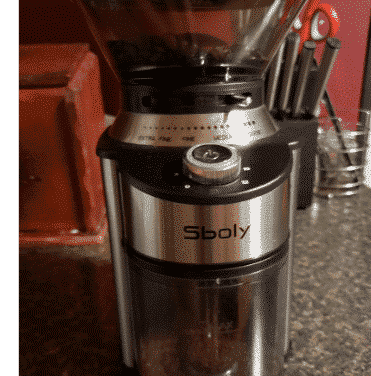 I've loved this coffee maker from the day I bought it. This grinder's shape is such that it manages to lock in the full flavor and deliver delicious and enticing coffee.
The conical burrs that it uses are also very useful at instilling coffee with a rich and deep taste. You can even choose the texture of the coffee as well.
It means that you can opt between coarse and fine coffee, and the latter can be ground up in a matter of seconds. The coarse grind option is excellent if you are thinking of making cold coffee.
You can also go for a mix that evinces even consistency as well. The great thing about this machine is that it manages to do all this but quietly and efficiently.
Features
This coffee grinder is heavy on features as well.
This is pretty amazing since this is one of the most compact and lightweight coffee grinders around (A little over 12 inches). It holds numerous options for grinding coffee in different ways. For instance, you can make cold coffee, latte, cappuccino, etc., with ease. Serving is also easier as you can choose larger and smaller groups based on servings with the touch of a button. You can also control the grinder settings for getting the grind of your choice as well.
Full
Cleaning
It is super easy to clean this coffee grinder as it comes apart with ease. You can then clean it out, and the additional brush that comes with this product makes this process even more comfortable. Then, all you have to do is reassemble it and grind it away. It also doesn't require cleaning too soon as you can use it for extended periods before doing so.
Ease of Use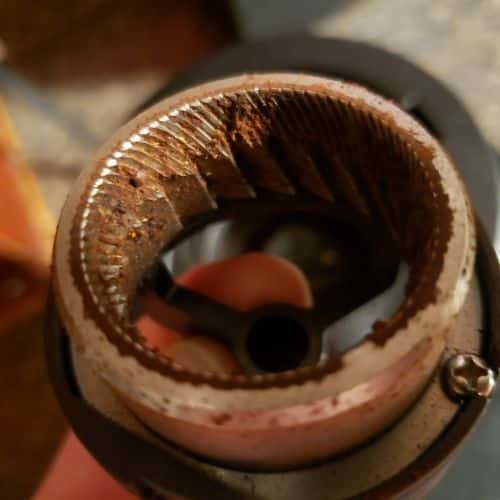 This coffee grinder is very easy to use, thanks to the many features that it contains. The convenience factor is further dialed up with the accessories that it comes with. The serving scoop, the removable collecting jar, the easy cleaning capacity, the soundless functioning, adjustable grind setting, etc., are what make this machine stand out.
Pros and Cons of the Sboly Conical Burr Grinder
All great machines have their fair share of pros and cons. They tend to lend a strong inclination to people in either choosing or ignoring it. The Pros and Cons of this coffee grinder can be listed as follows:
Pros
Very affordable coffee grinder
Very user friendly and comes with plenty of options for brewing coffee.
It can be taken apart for easier cleaning and works in a relatively quiet manner.
The flavor that you get with this conical burred maker is simply irresistible and utterly delicious.
Cons
Every time you remove the grounding container, the remaining grounds of coffee fall everywhere. This is highly inconvenient and is probably the only gripe that we have with this product
All in all, this is a terrific coffee grinder. If you are looking for a coffee grinder that embodies effectiveness and convenience, then the Sboly Conical Burr coffee grinder is the one for you.
No products found.